)n 7/19/22, Salida City Council met to vote whether to reapprove Ordinance 2022-06, which approved a variety of code exemptions for the Salida Bottling Company development.
Citizens filed a referendum, which would bring passage of this development to a vote of Salidans in the November election.
State law requires an additional vote by Salida Council to either repeal the ordinance, or affirm it so it goes to a vote of the people.
Watch this video, as Council responds angrily to the fact that no one was present to defend the referendum.
Migrating to You Tube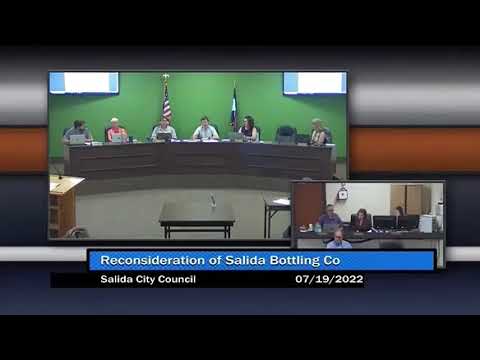 Read this 2014 letter from Mayor Dan Shore, condemning a previous administration for allowing a marijuana dispensary >1500 feet from Salida High School. Colorado State law specifies a 1000-foot limit. Salida City Council just approved a daycare in lieu of parking at Salida Crossings, which is located well within 1000 feet of an existing marijuana dispensary. Mayor Shore cannot claim to be unaware of this issue:
Questions location of dispensary
Oct 3, 2014
Dear Editor:
I was hoping to weigh in on the following issue regarding the new dispensary and its location relative to the high school.
It was with great surprise and disappointment that I found out the town has given permission to a recreational dispensary to open in plain sight of the high school. The same high school where two students were suspended recently after marijuana was found in their lockers.
What is the town thinking by allowing this? What message does this send to our youth when they will be greeted by that signage every day they go to school?
The decision might be legally defensible but it is morally reprehensible. The city council needs to really rethink a bad decision.
The other dispensaries in town have had the good sense and decency to maintain low profiles with their locations. Perhaps that is because they have a vested interest in this community.
I have heard how the person opening the new dispensary in plain view of the high school wants to be a part of this community. In my mind actions speak far louder than words, and the message I am receiving suggests that community does not matter.
We can do better than this. This kind of nonsense might fly on the Front Range, but it has no place in Salida.
Dan Shore