Which direction from Salida do you need to travel
100 miles to reach an ideal all year climate?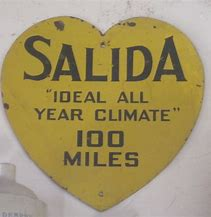 The FBI was seeking this man wearing a a black and white bandana with the word "Salida'' written across it. Activists were able to trace the cloth to a July 2020 promotional bandana from Colorado's Chaffee County, home to the towns of Salida and Buena Vista. Robinson had been tagged by a friend in an Instagram photo of Salida, Colorado which noted the two men's "summer adventures" there.