Jonestown Jena is offering Tina her election duties back if she will stay under the SoS's thumb.
Do you know what I would like to see?
Communications between Secretary of State Gena Griswold and Chaffee County Clerk Lori Mitchell regarding our missing Chaffee County election videos. Would these communications show two Democrat Party insiders colluding to cover-up criminal conduct in Chaffee County?
What kind of Secretary of State is Jena Griswold?
Raided by the FBI for the crime of questioning your government.
What country do we live in?
We are told there are no problems with elections in Colorado.
Gold standard for US elections, they say.
Where did this title come from?
Some independent jury awarded this prize to Colorado?
No, they just made it up.
The mainstream press tells you this constantly, so it must be true. right?
Just accept the results of the 2020 election and move on like the sheeple we are.
In the meantime, we Dems will use the power we stole to destroy your Country.
Now that they have realized how easy it is to steal power, they will never give it up unless we make them.
Lest you think that problems are restricted to Democrat voting officials, I have to contradict you.
Once technology entered the arena of vote counting, there was real money to be had selling equipment, software and services.
The web of relationships is dizzying, but the same names keep coming up.
Matt Crane is the Executive Director of the vaunted Chaffee County Clerks Association, where Chaffee County Clerk Lori Mitchell used to be President.
His wife, Lisa Flannagan Crane, worked at Sequoia, which became Dominion Voting, for 17 years.
Pam Anderson was present in Chaffee County, assisting with our 2021 election. She can be seen here cavorting with Lori Mitchell: Election Mythbusting: Pamsplaining- How do I know my vote counted? SD 480p - YouTube
Wayne Williams was appointed to run the Mesa County 2021 election for the displaced Tina Peters.
And then there is Salida's own Eric Coomer.
Check out this tangled web:
Go Tina, go! Way better Republican candidate than that RINO Pam Anderson!
Tina says, " In a forensic analysis of the images of the Dominion system drive, cybersecurity experts found the system was found to contain 36 wireless devices and was configured to "allow any computer in the world" to connect to Mesa County's election system server."
CO SECSTATE JENA GRISWOLD IS EXPOSED AS "THE GOLD STANDARD OF LIARS"
Posted by March 5, 2022
FORENSIC REPORT PROVES CO ELECTION SYSTEMS ARE INSECURE, CONTAIN ILLEGAL SOFTWARE, CAN CONNECT TO THE INTERNET, HAVE A "BACKDOOR", ARE CONFIGURED TO AUTOMATICALLY DELETE ELECTION RECORDS, AND WORSE
Damning forensic analysis report on the Mesa County election system delivers black-and-white proof of numerous intentionally designed vulnerabilities that violate state and federal laws.
[Mesa County Colorado, March 5, 2022] – The second in a series of Mesa County election systems forensics reports was obtained through a Colorado open records request. The report exposes a troubling array of serious election violations stemming from the electronic voting systems used in Mesa County. Given the electronic voting systems used in Colorado mimic systems used across the country in hundreds, if not thousands of counties, it's anticipated that the Mesa 2 Report will serve as the predicate for numerous investigations across the U.S. Some are already in progress and some are criminal.
The Mesa County electronic voting system is similar or identical to nearly all Colorado counties. This means almost the entire state used illegally certified, insecure electronic voting systems for elections dating back to at least 2017 (Griswold was elected SecState in 2018). These undeniable facts fly in the face of an obstinate and highly partisan Colorado Secretary of State Jena Griswold who has repeatedly stated that Colorado's election system is secure, and "The Gold Standard".
A sample of key findings from the Mesa Report:
The electronic voting systems contained 36 separate wireless devices. These devices allowed connections to the internet and/or other outside devices that can connect to the internet. This obliterates CO SecState's Griswold's unsubstantiated claims that the electronic voting systems could not connect and were not connected to internet. Griswold has never produced any report or documentation proving that the electronic voting systems were not connected to the internet. This leaves the Mesa County Report(s) standing as the unchallenged truth about the systems.

The Dominion system was set up to automatically delete audit records. Plus, the electronic voting system was designed to delete, and systematically deleted required system log files during the "Trusted Build." Griswold ordered the Trusted Build, making her responsible for the deletion of election records. This adds to the proof from "Mesa Report 1" that exposed 29,000 election records were deleted from the Mesa system in violation of federal and state laws. The intentional deletion of these records and log files prevents Mesa County citizens the ability to legitimately audit their past elections. This is the right of Colorado citizens to audit their elections for 25 months. Given Griswold and her vendor performed the "Trusted Build" in May 2021, the deletion of these records falls well within the legal timeframe that election records must be preserved. Investigations, including criminal, against Griswold and her staff are imminent given the severity of state and federal election law violations.

Uncertified software was illegally installed on the Mesa County election server. Griswold was the CO Secretary of State in 2019 when she certified Dominion Voting Systems Democracy Suite version 5.11-CO, used in the 2020 election. That certification did not include Microsoft SQL Server Management Studio, but that software was installed on the voting system. According to the Colorado statute, the presence of this illegal and uncertified software renders the entire electronic voting system illegal for use in Colorado elections. Griswold had numerous opportunities to identify the presence of the illegal software, notify the public, and to remedy the situation. That never happened. Griswold must now publicly present her case as to why the illegal software existed in her officially certified voting systems, how the illegal software got installed, who was responsible, and why did Griswold certify a system with this egregious breach of security and certify an election using the illegally-certified and illegally-used voting system.
Given the bulk of Griswold's notoriously rotating staff has no cybersecurity, technical, or computer experience, it's expected Griswold will lean on her vendor, Dominion, to help explain. Unfortunately, relying on the vendor who potentially shares legal liability and who's lobbyists donate to Griswold's re-election campaign it likely won't stand with the public. The conflict of interest is overwhelming. It appears the only way forward for Griswold is to conduct a full investigation by an independent third-party.
This raises serious ethical and legal issues for the SecState. Why did Griswold ram through emergency rules banning third party audits in Colorado this past summer? The timing of her panicked action aligned perfectly with Griswold discovering the Mesa County election system forensic backups. With the Mesa 2 report, it appears Griswold was advised to try and get ahead of the inevitable.
4. The Mesa County electronic voting system is configured to allow any computer in the world to connect to the Election Management System (EMS) server. Predictably election officials with little to no cyber or tech expertise will claim that there is no proof of any other computer accessing this system. The claim is somewhat accurate given the fact that the Dominion voting system is intentionally designed to obliterate mandatory audit logs "both election records and evidence of access to the EMS server." Election officials are now faced with taking a serious risk if they continue to defend Griswold, and an obviously corrupted and illegal election system. The best these officials can hope for with this specific violation is that there may be no proof that other computers accessed the system.
Each forensic report out of Mesa County has been accurate and the substance of the report has gone unchallenged by technical experts from SecState Griswold's office or otherwise. Is it wise for these election officials to defend a technical system with no way to check, or verify what is true for themselves? With the legal backing of Marc Elias and Soros, Griswold has a defense for herself. What about the local election officials who are legally liable for their elections? Are they prepared to assume legal responsibility for Griswold's illegally approved election system they were told was secure, and "The Gold Standard?"
5. The Mesa County electronic voting system violates the federal Voting System Standards (VSS). These standards mandate that the system be designed to prevent "changing calculated vote totals". This indicates that the voting system CO SecState Jena Griswold violated Colorado law by certifying and allowing a completely illegal voting system to be used in Colorado elections.
In El Paso County's 2021 election, Clerk Chuck Broerman conducted a severely botched election in cooperation with SecState Jena Griswold that resulted in a public admission that vote totals had to be manually changed. Elected officials must now answer for why they are using a system that allows manually changing vote totals. Who can change vote totals? How? When? Why?
Both Mesa reports were prepared by Doug Gould, the former Chief Cybersecurity Security Strategist for AT&T. Mr. Gould is considered a foremost expert in the cybersecurity field and holds CISSP and CAS certifications. He is also a faculty member at the World Institute for Security Enhancement. We reached out to Mr. Gould to ask if there were more reports coming. As of the time of this release there was no response.
Mesa County Forensic Report No. 2Download
More evidence of Wi-Fi connections to Dominion machines in Wisconsin.
How come guilt by association does not apply to antifa arsonists, BLM rioters and those who want to eliminate the US Constitution?
Using the same logic applied to Lauren Boebert, someone who supports BLM with a sign in their yard is complicit with every act perpetrated under the BLM banner.
Is this the new standard? Since people seem to be making up the rules as they go along, I am just trying to keep up.
Can someone answer this question?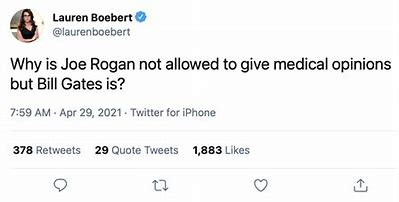 Excellent info. Excellent explanation. Who is going to tell Lori?